Ramboda Falls, which is the 11th highest waterfall in Sri Lanka and the 729th highest waterfall in the world, has beauty that is truly unmatched! This majestic cascade is one of the most popular tourist attractions in the Pussellawa area.
Location
The height of the waterfall is 109 metres and its altitude is 945 metres above sea level. It can be easily accessed via the Pussellawa-Nuwara Eliya Road. It is quite easy to find too. You will first pass the Ramboda Tunnel when you are coming down this road from Peradeniya, and then come across a bridge. The waterfall is located just beside this bridge. You will be able to have tours to this site with great ease when you travel in the island with Green Holiday Centre.
Ramboda Falls consist of three sections. It is quite hard to catch a glimpse of the full waterfall as you drive past it. The A5 highway affords a great view of the mid section but this is only a very little part of the waterfall. If you wish to see this majestic waterfall in all its glory, you will have to embark on a small trek. Do bear in mind that the climb may be somewhat challenging for novice hikers. But once you reach the zenith, you will be swept away by the grandeur and charm of the stunning cascade as well as the breathtaking beauty of the surrounding region.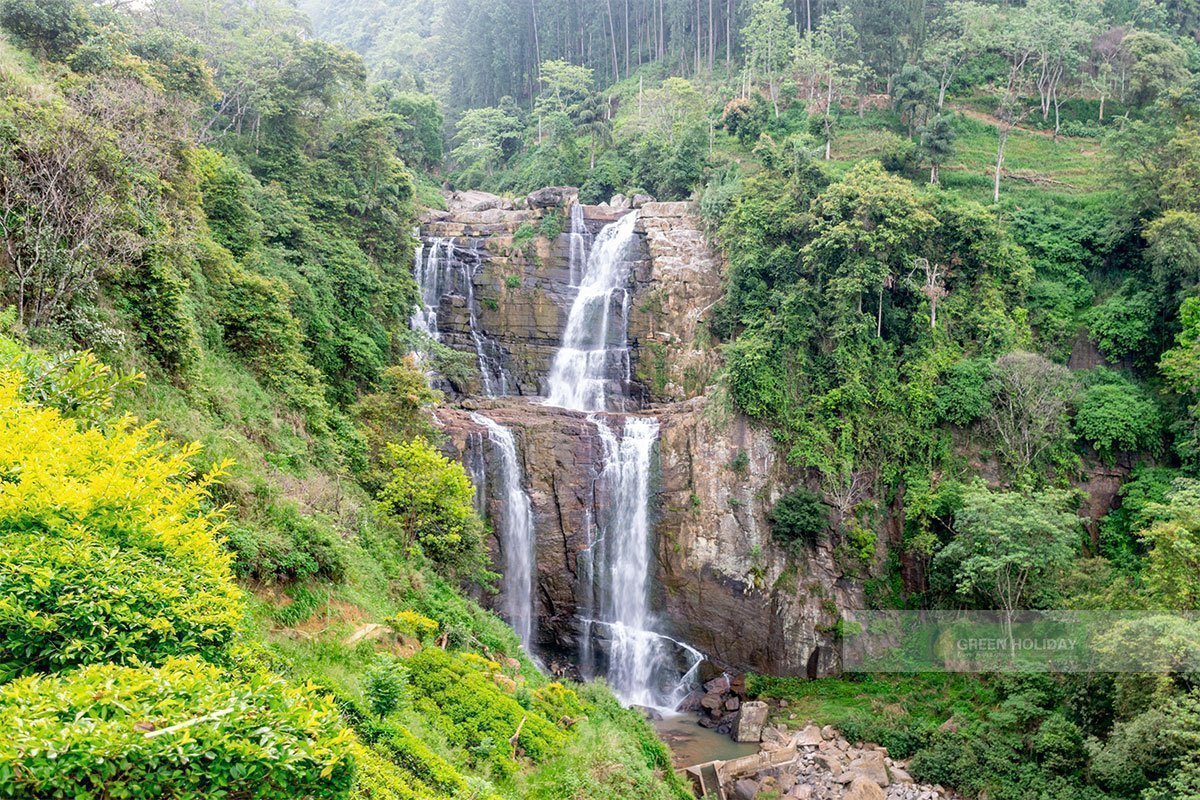 The bottom part of the waterfall is called the Ramboda Basin. It is a shimmering pool of water around which a few great hotels are located.
Indeed the stunning Ramboda Falls is a sight to behold! It rushes alluringly down the polished granite rocks while the emerald hued foliage of the surrounding adds splashes of rich colour to the scenery. Be sure to take your camera with you when you visit this spectacular destination and you will be able to capture some spectacular shots!