5 days tour itinerary to Sri Lanka is highly recommended for people who are living with a tight schedule and just wanted to have a quick escape from the hectic work load. Sri Lanka is home for almost every holiday activities like watersports, hiking, trekking, birds watching, wildlife park safari, tea trials, boat rides, white water rafting, hot air ballooning and more. Sri Lanka is an economic friendly holiday destination.
Because of the multiple options the Sri Lanka offers, and being an economic tour destination, tourists from all over the world do not hesitate to invest with their Sri Lanka tour for a cherished holidays. 5 days in Sri Lanka helps to release you from your daily routine. Short 5 days tour to Sri Lanka adds a change to your mind & body, by essaying warm, calm, soothing, and relaxing mindset, and physiologically boost your energy to relish. Green Holidays, we are excited to be your Sri Lanka holiday partner, and to mix ease with comfort to our valuable customers. We have drawn 5 days Sri Lanka tour itineraries to meet different travel needs and holiday requirements. Here are some of such 5 days tour packages to check out.
Best 5 Days Tour Itinerary to Sri Lanka
Even though we have drawn many more 5 days tour packages for a quick holiday peek to Sri Lanka, the following 5 days in Sri Lanka tour itinerary is praised and loved by the most of our customers, who had spent 5 days in Sri Lanka by joining hands with us. In other words, from our records, the following 5 days tour package is the best selling and top rated Sri Lanka holiday package. On this holiday package, we have planned to visit Sigiriya & Dambulla, Polonnaruwa, Anuradhapura, Trincomalee and Negombo. By booking this tour package, in summary you will feel excitement about the ancient architecture, sculpture & irrigation, admire sightseeing from top of the hill, roll around east coast & west coast beaches and work on some thrill holiday activities.
Day 1 : Colombo – Sigiriya & Dambulla
Our tour guide will pick you at the airport
Transfer to hotel in Sigiriya • Visit to Sigiriya Fortress
Visit Dambulla
Elephant back ride in Sigiriya wewa
Overnight Stay in Sigiriya
On the first day of your 5 days tour to Sri Lanka, after breakfast in Sigiriya hotel, let's go to Sigiriya rock fortress. Sigiriya is world popular for its mirror wall and paintings. Near to the entrance to Sigiriya, you can see the ancient irrigation system which the King Kasyappa had implemented in ancient time to serve the palace needs and the agriculture. Boulder gardens & terrace gardens are highlights of irrigation system, which can be still noticed on a visit to Sigiriya. The ancient ponds and architecture can be noticed nowadays in Sigiriya which ruins are still well maintained.
If you follow the steps after the ancient ponds, we can start to climb the Sigiriya rock fortress to see the ancient palace and its architecture. After climbing few steps, you can see ancient paintings and mirror wall which are dated back around thousands of years, still remain with same beauty. The "women with flowers" is main theme of the Sigiriya frescoes paintings. On the way to top of the summit, the surrounding view from staircase, is
incredible, extremely attractive and adorable specially for people with love for nature. On top of the summit, you can witness ruins of ancient palace and royal pond. Sigiriya is most sought tour destination, because of the ruins of ancient rock palace, paintings, mirror walls and view from top of the Sigiriya rock. UNESCO declared Sigiriya as one of the heritage site in Sri Lanka. The tour destination is well maintained by local government in order to secure it for future generation. Sigiriya is a must to visit place on your 5 days to Sri Lanka tour, specially if you like to get some new experiences and escape to a holiday to stay away from your usual life.
After a visit to Sigiriya and explore ancient fortress palace of Sri Lanka, let's proceed to Dambulla Cave Golden Temple. Dambulla is also a UNESCO heritage site in Sri Lanka. In Dambulla you can see the complex of cave temples. Dambulla rock is about 160 m height, and there are about 80 caves around this area. Anyhow only five caves are popular among tourists. The paintings in the caves describe the life of lord Buddha and Buddhism. There are statues of Lord Buddha, Hindu gods, goddesses and kings in the caves. It is believed the prehistoric Sri Lankans were lived in Dambulla caves before the arrival of Buddhism. This is because of the human skeletons dated back around 3,000 years were found near Dambulla cave temples. If you are willing to discover something which you do not know about Sri Lanka's history, and if you want to gain new travel experience, Dambulla should be in your 5 days tour itinerary to Sri Lanka.
After a visit to Dambulla cave golden temple, let's back to Sigiriya, in the evening for elephant back safari in the Sigiriya wewa (Sigiriya lake, "wewa" means lake). If you would like to ride an elephant, an elephant back ride safari can be arranged passing Sigiriya wewa. An elephant may carry 4 people at a time, with a mahout. On your elephant ride, you can see beautiful view of Sigiriya rock, some wildlife around the area. Also, on your elephant back safari, you can snap some beautiful sceneries around Sigiriya rock to take back to home as your memories of the 5 days tour to Sri Lanka.
At the end of first day of your five days tour to Sri Lanka, by checking out the two UNESCO heritage sites (Sigiriya & Dambulla) you will have gathered new travel experiences merged with some fun filled thriller experiences. The Sigiriya rock climbing, sightseeing from Sigiriya's summit, and inquiring & investigating about Dambulla caves, paintings & statues definitely will refresh your mind & soul, and will escape you from your routine life style. To book this 5 days in Sri Lanka tour package, contact us today and share your travel requirements, so that we will deliver the best customized Sri Lanka holiday package that meets your holiday needs.
Day 2 : Polonnaruwa
Check in to hotel in Polonnaruwa
Polonnaruwa day tour to see ancient ruins and monuments
Boat Ride in Parakrama Samudra
Overnight Stay in Polonnaruwa
On the day 2 of this five days in Sri Lanka tour package, after breakfast in hotel, let's move to Polonnaruwa, the ancient capital of Sri Lanka to see & excite about olden days' Sri Lanka. Check in a hotel which we pre-booked for you in Polonnaruwa and refresh. After some time, let's start our Polonnaruwa day tour to dig and mingle with what Polonnaruwa has to showcase to its visitors.
Let's start with ancient Royal Palace ruins in Polonnaruwa. As per the history, this Royal palace was erected by King Parakramabahu I, as 7 story building, now only ruins of 3 floors are there for us to see. Further, the history mentions there are about 1000 rooms in the palace, but only around 55 rooms ruins are there to witness now. Also, this palace was burnt by south Indian invader, and still we can notice the burnt bricks and wall here in the palace. Still we can see the ruins of ancient audience hall of the palace, the remaining parts are still strong with pride to explain its visitors about the ancient engineering skills.
The elephants which were carved in stones in the audience hall are still attractive, specially the every elephants around the hall are in different positions, which clearly expresses the ancient Sri Lankan's art work skills. Not only the elephant stone carvings, near by the entrance of the audience hall, there are two lions sitting on each side of the hall, which stone carvings of lions are incredible and makes us to think back how were the olden days of Sri Lanka. If we move further inside, there is King's swimming pool and other ruins of ancient royal palace. A visit to this ancient royal palace gives you collective ideas on the life style of ancient kings of the country and ancient architecture & sculpture skills, so, on a short tour like 5 days in Sri Lanka, Polonnaruwa Royal Palace is worth to visit.
The Quadrangle near the Royal Palace is another important place to visit in Polonnaruwa. Here you can see the ruins of scared Lord Buddha statue and ancient monuments. It is a ruins collection of ancient Polonnaruwa buildings, still stand alone with pride to showcase the ancient art works, life style and architecture. You can notice the Vatadage in middle of these ruins and the guard stones at entrance with beautifully designed stairs with lots of stone carvings on it. Many tourists mentioned that, on a Polonnaruwa day tour, visiting these ancient ruins was interesting for them and worth their time.
Next let's visit Shiva Devale No 2. It is an ancient small Hindu temple in Polonnaruwa. This temple was built it stones, and still remains same as it was built. History says that it was built during Chola period in Polonnaruwa. The south Indian invaders Chola had captured the city and established their own destiny on the Polonnaruwa city. In the temple, Sivalingam (Lord Shiva) is the main god to worship and there were other Hindu gods too (as per the history and historical research). Still you an see the "Nandi", the vehicle of lord Shiva in front of the main shrine here in this temple. The Hindu religious activities (poojas) are carried out even now since ancient time on this temple. Also, a small Vishnu temple can be noticed near this temple.
After Shiva Devale, let's proceed to Gal Vihara. There are four different Buddha's statues there for us to see now. You have to remove your footwear if you want to be more closer and see the things. The environment is more spiritual, calm and relaxed, which generates refresh and peace of mind for visitors. It is impossible to imagine the ancient art works, specially because of these big Buddha stone carvings were carved on a single rock. Many tourists to Gal Vihara were impressed with the stone carvings and recommended a visit to Gal Vihara to witness ancient art work which still stand there for us to see, and still survived from Sun light and rain. It is a must to visit place on a 5 days tour to Sri Lanka, to pour some ideas about impressive ancient art work to your memory bucket of holidays to Sri Lanka.
Let's proceed to Lankathilaka Image House next. This was built by King Parakramabahu I, made of bricks together with stone carvings on outer walls. The Buddha statue in Lankathilaka Image House is 41 feet height was made of clay bricks. Nowadays we can see only the ruins of this Buddha statue and the surrounding building. The Buddha statue's below shoulder part only exists for now. Similar to other ancient ruins in Polonnaruwa, the entrance of this building too was with two guard stones and stone carvings on staircase. With the highest Buddha statue, and over 1000 years of age, these still beautiful ruins made tourists to wonder about the ancient Sri Lanka. The most of the visitors to the image house, praised the art work of inner temple & the history those carry over years. If you have Polonnaruwa in your tour itinerary to Sri Lanka, the Lankathilaka Image House is not to be missed a visit.
This has long history compare to other ruins in Polonnaruwa. As per the history, the existence of Medirigiriya
Vatadage is dated back to early kingdom of Sri Lanka (i.e : Anuradhapura period), because of existence of brami characters & different stone carvings found on the ruins. History of Medirigiriya Vatadage further explains, that many kings from Anuradhapura and Polonnaruwa period had contributed to the Vatadage. Around the Vatadage, there are other ancient ruins of stupa house, stone inscriptions, small stupas, ancient hospital, ponds, ancient medicine boat and etc, for visitors to see and excite about ancient buildings and culture of Polonnaruwa era.
Later in the evening of the second day of five days in Sri Lanka tour itinerary, let's go to Parakrama Samudra for a boat ride. Parakrama Samudra (Parakrama Sea) was a revolution in ancient Sri Lanka's irrigation system, was built by king Parakramabahu to benefit agriculture during Polonnaruwa era. The water reservoir was formed by connecting around 5 different lakes. A fishery boat ride in Parakramabahu Samudra gives you opportunities to see the beauty of surrounding area. During the boat ride, you may feel like you are in the Sea, which is why it is known as Parakrama Sea too. Tourists who had visited Parakrama Samudra appreciated the birds watching, witnessing beautiful Sun set and sightseeing activities in this tour destination.
Day 3 : Anuradhapura
Anuradhapura day tour to ancient temples and ruins
Overnight Stay in Polonnaruwa
We will stay in the same hotel in Polonnaruwa on day 2 and day 3, of this Sri Lanka 5 days tour plan. After breakfast in hotel, let's proceed to Anuradhapura, the first ancient capital of Sri Lanka. Anuradhapura has more ruins of monastic complexes, temples and stupas to witness. There are more to explore & understand, how ancient society was more closer to their religion, and how did king take care & support their public in terms of agriculture, irrigation systems and etc.
In Anuradhapura, let's start the day tour with scared Bodhi Tree. This is also known as Sri Maha Bodhiya, with history behind it. Indian king, the Asoka was promoting and spreading Buddhism all over the world since after the kaling war in India. As part of his promotional activities, he sent Buddhist monks to Sri Lanka and spread Buddhism in Sri Lanka too. Emperor Asoka's daughter Theri Sangamitta, brought part of the Bodhi tree to Sri Lanka under which prince Gauthama Buddha was enlightened, which tree was considered as scared tree, and still you can witness the tree, called as "Scared Bodhi Tree". If you are visiting Anuradhapura, Sri Maha Bohdi is a must to visit to gain spiritual relief and ideas about Sri Lanka's culture and history.
Ruvanvelisaya Dagoba is the second highest stupa in Anuradhapura, built by king Dutugemunu. Unfortunately, king Dutugemunu was not there at the completion of the stupa's construction. In the temple, you can see the statues of king Dutugemunu, queen Vihara Mahadevi (Mother of king Dutugemunu) and other gods, which were made of granite. The ancient stupa was around 55 meters, later many kings renovated it and now it is around 107 meters in height. In the night, or in the morning, the view of Ruvanvelisaya Dagoba is beautiful and adorable. Similar to other ruins in Polonnaruwa and Anuradhapura, this temple too proudly reflects the ancient architecture style.
Next, let's proceed to Abhayagiri Vihara. The Abhayagiri monastery was built in around 88 B.C with the capacity to home for around five thousand monks. There are lots of Buddha statues, stupa, moonstone, twin ponds with granite stones for monks to take bath. All these ancient irrigation system and architecture clearly explain us, how good were the ancient people in engineering, may be hydro or civil. Moonstone can be noticed in almost all the Buddhist temples and other important buildings in Sri Lanka. The culture of installing Moonstone was started
since, later Anuradhapura period. Usually in moonstone is a half circle shaped slab of stone, with more stone carvings, blossom lotus leaf in middle, surrounding with elephants, horses, lions, swam and other animals. The carvings of moonstone dictates different stage of human life. On your 5 days in Sri Lanka, a visit to Abhayagiri Vihara provides you spiritual warm, and a surprise about how ancient society was good in architecture and irrigation system
After Abhayagiri Vihara, let's proceed to Isurumuniya Temple in Anuradhapura. Isurumuniya temple was carved in stones dated thousands of years back, constructed by king Devanapiyatissa, with capacity to host around five hundred monks. In Isurumuniya too you can see several statues, pillars and a stupa. Isurumuniya is popular among tourists and local specially because of the stone carvings. Isurumuniya lovers, elephant pond, royal family are the most viewed and famous stone carvings in Isurumuniya. Isurumuniya lovers stone carvings represent the king Dutugemunu's son Saliya and low caste girl Askokamala, who were in love and Saliya compensated his throne for his love with Askokamala. In the royal family carvings there are 5 people, and the carvings is made of granite, the history narrates the center figure in this carvings is king Dutugemunu. On your 5 days to Sri Lanka, shooting some photographs on this tour destination worth to save on your memory, specially a photograph with Isurumuniya lovers may help you to entertain your sweetheart in form of gift on a valentines day or on your anniversary.
After taking some snapshots with Isurumuniya Lovers, let's proceed to Jetavanaramaya temple. It was built by king Mahasen, with height of 122 meters and was considered the tallest building in the ancient time. This explicitly announces the ancient Sri Lankans' engineering & architecture skills. There is a small museum next to the temple for us to investigate and explore the history of Jetavanaramaya as well as Anuradhapura period. Having a visit to the museum is worth on this five days tour to Sri Lanka, to find and collect information about ancient culture, coins, jewels, life style and etc.
With the second and third day of this tour plan, we will have rounded around the ancient capitals, which are designated as UNESCO heritage. These sites are well maintained, for tourists to visit and walk around. A visit to these sites, will have added spiritual, cultural and informative flavor for the holidays to Sri Lanka, together with excitement and surprises on how the ancient architecture, sculpture, irrigation systems were and how good ancient Sri Lankans were in engineering.
Day 4 : Trincomalee
Check in to hotel in Trincomalee
Visit to Koneswaram Temple
Visit to Fort Frederick & British war cemetery
Visit to Nilaveli Beach & Pigeon Island
After breakfast in Polonnaruwa hotel, let's proceed to Trincomalee, the east coast of the island, and check in a hotel in Trincomalee, and take some rest. Later, let's visit ancient Hindu temple, Thirukonesharam in Trincomalee, primary god is Lord Shiva in the temple together with other Hindu gods and goddesses. Hindu epic "Ramayana" narrates the ancient king Ravana who ruled lankapura (before thousands of years of Anuradhapura period), worshipped lord Shiva in this Thirukonesharam temple, and dates the existence of the temple almost 3,000 years back. Almost in all the Hindu temples in Sri Lanka, lord Shiva is worshipped in the form of Sivalingam, even in Thirukonesharam too. After a visit to temple, you can buy some souvenirs the shops down in the hills.
After visit to Thirukonesharam, let's visit Fort Frederick. Back to history of this fort, the fort was built by Portuguese, then captured by Dutch and British. In 1662, the Portuguese completely destroyed the Thirukonesharam temple and robbed thousands of valuable pearls, gold, stones and statues, and used the temple stones to build this fort. Nowadays this fort is under control of Sri Lankan forces and visitors are allowed to see the ramparts of the fortifications, and many tourists are impressed with small group of beautiful deer around the fort. If you are interested to check out the colonial era in Sri Lanka, this fort is a must to visit place during your five days tour to Sri Lanka.
Next to Fort Frederick, let's proceed to British war cemetery where the British soldiers who died in World War II were buried and graved. The cemetery is well maintained and you can witness the clearly printed names, ages, death year of soldiers in the gravestones. By reading the names on gravestones you can realize there were not only English soldiers who served British force, but there were soldiers from Australia, East Africa and more. A visit to this cemetery may give a feel like you are in Britain, on such way it is well maintained by the relevant authorities. A must to see place in Trincomalee to witness the ancient British influence to Sri Lanka.
Next to British War Cemetery, let's proceed to Nilaveli beach. Nilaveli beach is known for watersports like diving, surfing etc. A beach walk in Nilaveli offers a relaxed time together with whisper of waves. After some time in the Nilaveli Beach, let's proceed to Pigeon Island, the paradise of watersports activities. From Nilaveli, we have to take boat to check in Pigeon Island, the ride takes around 20-30 minutes. For beach lovers, Nilaveli and Pigeon island has more to offer during the 5 days in Sri Lanka tour.
Pigeon Island is a beautiful national park in Sri Lanka, is highly recommended for coral watching, snorkeling, diving, sunbathing and swimming. The destination is the most wanted place to visit among locals and foreigners, to have a fun filled time with water. You can watch reef sharks, turtles, tropical fish, jelly fish together with coral vegetation in this island. To enjoy the underwater beauty and rock & roll around the beach sand & experience some thrill with water sports, Pigeon Island is a must to visit on your holidays to Sri Lanka. If you are water sports geek, a beach lover, Pigeon island is a must place to have on your 5 days in Sri Lanka tour.
The day 4 of this 5 days in Sri Lanka tour, offers you mixed travel & holiday experiences, starting from spiritual & historical experience at Thirukonesharam temple, witnessing colonial landmarks in Fort, and experiencing thrill beach activities at Pigeon island and having fun with waves in Nilaveli beach.
Day 5 : Negombo
Check in to hotel in Negombo
Visit to main Fish Market
Visit to St. Mary's Church
Visit to Muthurajawela Marsh
On the final day of this 5 days in Sri Lanka tour itinerary, let's proceed to Negombo after breakfast in Trincomalee hotel. After check in a hotel in Negombo, let's proceed to Negombo fish market. In the fish market you can see the hard working fishermen, variety of fishes, and process of drying fish etc. In the mornings, the market is usually busy as fishermen arrive from sea in the mornings and busy on distribution. A visit to fish market in
Negombo gives you some ideas about fishermen's daily life along side witnessing the just brought fresh fishes.
Negombo, being a coastal town, it has high level of influence of foreign invaders, the Portuguese, Dutch and British, and a city with more number of Churches in Sri Lanka, so that it is referred as 'Little Rome'. St. Mary's Church was built in 1874-1924 period, with beautiful architecture together with impressive wall art work and clearly showcase the colonial era. On your 5 days in Sri Lanka, to experience colonial touch in spiritual way, a visit to St. Mary's Church is worthy your time.
After a visit to St. Mary's Church, let's proceed to Muthurajawela wetland, it is believed the wetland was formed around 7,000 years ago. The wetland hosts around 100 birds species, more than 100 fauna and flora, around 48 butterfly species, and other creatures. If you are big fan of birds & butterflies watching, and love to spend some time with flora & fauna, a visit to Muthurajawela wetland is recommended. It is located near the Negombo lagoon, only few minutes drive from Negombo city.
After Muthurajawela wetland, let's have some fun time in Negombo Beach. Walk in Negombo beach & digging the golden sand, and witnessing the Sun set in the beach are most favorite activities tourists wish to do in the Negombo beach. The final day of this 5 days in Sri Lanka tour package, you will have gathered some experience on Negombo fish market & local fishermen's daily life, colonial influence to the Little Rome, Birds watching and keep in touch with flora & fauna, and finally a beach walk.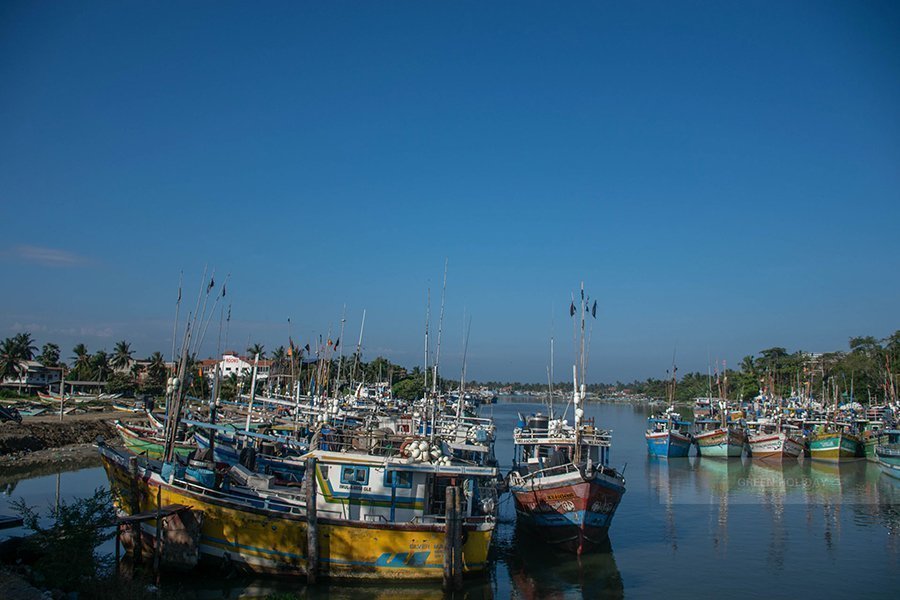 This 5 days in Sri Lanka tour itinerary pours multiple travel experience to your holidaying bucket; starting from Sigiriya rock climbing & inquiring about ancient irrigation system in Sigiriya fortress, then witnessing cave complex in Dambulla, experiencing ancient Sri Lanka in Polonnaruwa and Anuradhapura by watching ancient ruins, culture and ancient life style, feeling smell of colonial influence & beach stay in Trincomalee, finally wetland visit & beach walk in Negombo. Book this 5 days in Sri Lanka tour package now, to enjoy your holidays in Sri Lanka, please note that this tour package can be customized to meet your travel wishes.